Thanks to Bill for pointing me to this preorder listing for Take Ivy on Amazon, which looks to be a reissue of the rare book. The details are still sparse, but if true it's about time! (now suddenly watch the insane resale market for old copies plummet)
It's also interesting to note that the listing has English for the language. Maybe it will be a translated version?
# Hardcover: 142 pages
# Publisher: pH Books (August 31, 2010)
# Language: English
# ISBN-10: 1576875504
# ISBN-13: 978-1576875506
Update: This is the real deal. The publisher is powerHouse Books and there will be a full English translation. Read more on powerhousebooks.com.
Take Ivy is now considered a definitive document of this particular style, and rare original copies are highly sought after by "trad" devotees worldwide. A small-run reprint came out in Japan in 2006 and sold out almost immediately. Now, for the first time ever, powerHouse is reviving this classic tome with an all-new English translation. Ivy style has never been more popular, in Japan or stateside, proving its timeless and transcendent appeal. Take Ivy has survived the decades and is an essential object for anyone interested in the history or future of fashion.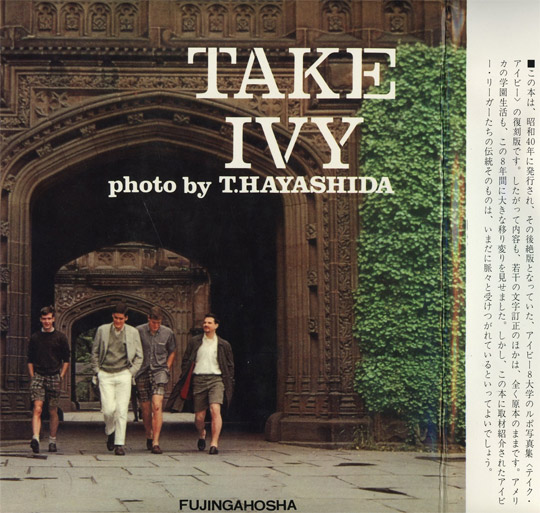 Take Ivy cover scan via The Trad.