New items are now available on jcrew.com: thick low gauge sweaters, a velvet sportcoat, Belstaff jackets, Levi's denim, and more.

The November catalog is now available online as well, but it's not that great (same with the recent ones too). I miss the older catalogs when they were set in places like Paris or Prague, but I would assume they've long since cut out the spending for that kind of work.

The Belstaff riding jackets are classics. The only thing that doesn't really fit in is the Che Guevara replica version – why would J.Crew want to sell this?
A velvet sportcoat – ideal for your upcoming holiday parties.
A new Mackintosh coat in glen plaid.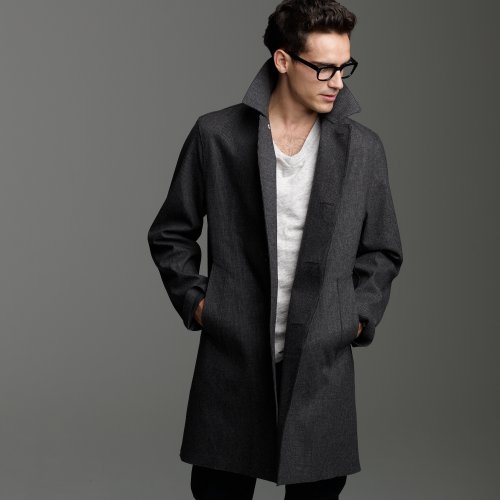 Some of the new low gauge knit sweaters. They look nice, but I've come to not trust J.Crew's sweaters that use wool/poly blends due to insane amounts pilling. If you know where to look, superior versions of many of these traditional styles can be purchased from small knitting operations throughout Ireland and the UK for about the same cost (more on that later).
Some bags with potential.
Flannel lined chinos – a good cheap alternative to those expensive versions that Woolrich Woolen Mills is selling in their FW2009 collection.
The washed Levi's 501 1966 model reproduction. 1966 was the year they removed the rivets from the back pockets and replaced them with bar tacking.