In 1995, Sotheby's hosted an auction for a large collection of antiques and fine art that was used by Ralph Lauren to showcase his clothing lines throughout his stores, showrooms, and advertisements. If you've ever visited the Ralph Lauren mansion in NYC, or the store on Michigan Ave in Chicago, you definitely can get a feel for how he sells everything by also selling the perception of a having a certain lifestyle. From the introduction to the book that accompanied the auction:
This remarkable group of antiques and furnishings , which were bought in both the United States and Europe, embrace a diversity of styles and cultures through grand and casual, rugged yet sophisticated. In addition to such high-style furniture as the Louis XV ormolu-mounted tulipwood and kindwood parquetry bureau plat from the mid-18th century signed by Pierre Garneir, the collection also includes a large number of whimsical and traditional decorative pieces, such as the 19th century English carved rocking horse, the pair of 19th century Codestone garden urns, needlework pillows, tea caddies and andirons.
My favorite piece shown in the book is a chair and ottoman set made from tusks and alligator leather, and only because it's so tacky and politically incorrect by today's standards.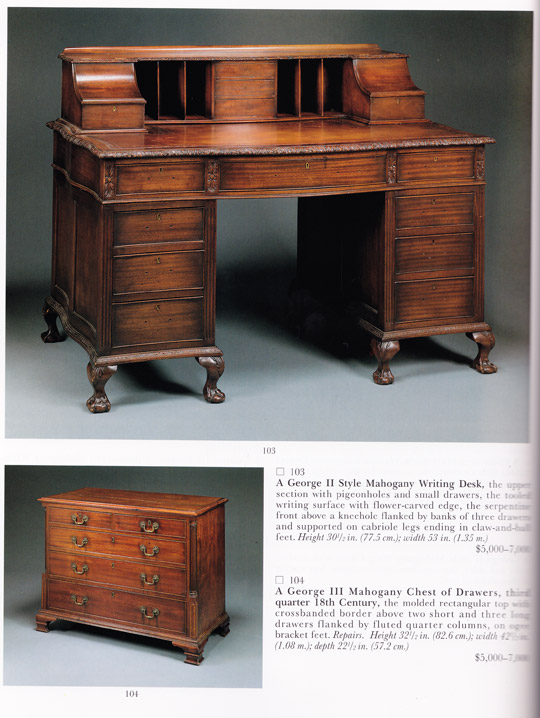 The NYTimes had a followup on the auction the day after:
Ralph Lauren, the purveyor of tweedy clothing and Old World atmosphere, has been an insatiable collector of arcane, often English furniture and decorations that have served as backdrops and props in his shops and showrooms (but not his own living rooms). Even Mr. Lauren runs out of storage space. Yesterday, he sold 443 lots of European and American furniture — some antiques, others vaguely old — for $2.5 million (including buyers' premiums) at Sotheby's in New York.

The sale's top bid of $290,000 came near the end of the afternoon session for a Gobelins tapestry showing two oxen pulling a cart. The bid far exceeded the auction house's estimate of $60,000 to $80,000.

At the morning session, Mariette Himes Gomez, a New York interior designer who later bid $4,500 for an Italian Renaissance mantel, said: "A very small crowd. There are not a lot of people here because this is about style and not serious stuff." Just serious prices.
The tusk and alligator ottoman set went for $15,000. Continue reading more.